Deck Staining in Clearwater, South Carolina
G & M Painting, LLC is proud to offer deck staining and deck restoration in Clearwater, South Carolina.
Sun exposure, wind, and rain can damage the surface of your Clearwater South Carolina deck in no time! UV rays and moisture can damage deck surfaces that have lost their protective seal. let the experts at G & M Painting, LLC restore your deck's beauty and protect your investment. G & M Painting, LLC's Clearwater, South Carolina deck staining specialists have years of experience in caring for decks.
---
Call for a FREE Quote
---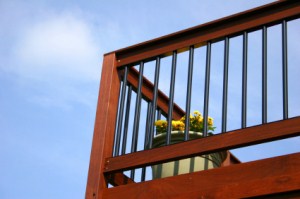 Clearwater Deck Staining Preparation
No deck staining job in Clearwater is too big or too small. G & M Painting, LLC will prepare your deck in its entirety prior to staining or painting:
First, we will thoroughly pressure wash the deck, ensuring that all dirt, mildew, moss, and any damaged surface wood fibers have been carefully cleaned leaving behind a smooth, ready-for-stain surface.
Rough areas are sanded as needed to restore a smooth finish.
Then, G & M Painting, LLC will then help you choose the right stain or paint to compliment your home and landscaping.
Finally, we carefully apply one or more coatings of high-grade paint or stain that can withstand the damaging heat and UV of the summer sun, the cold of winter, and regular exposure to moisture.
Rest assured your Clearwater deck staining project is in good hands with the high-quality painters at G & M Painting, LLC. We have been staining and painting decks in Clearwater for over 21 years, and we look forward to enhancing yours! Call (706) 751-7058.
G & M Painting, LLC Can Stain Any Deck in Clearwater!
G & M Painting, LLC's 21 years of experience allow us to be prepared to stain any Clearwater deck. We offer affordable services to our clientele that are always completed in a timely manner. G & M Painting, LLC can help your deck look great and be the envy of the neighborhood, so give us a call at (706) 751-7058 to get started on your Clearwater deck staining project
---
Call for FREE Deck Staining Quote
---
WHAT CUSTOMERS ARE SAYING:
5★★★★★ - "I wish that I could give them 10 STARS!
Just repaired 4 locations in my home where cracks had appeared. Now it looks wonderful. Nail heads recessed and repaired. Completely stained the deck railings and made repairs to the pergola. Wonderful craftsmanship and work."

Vicki Ussery in Thomson, GA

2019-04-01

5★★★★★ - "Hello Sharon and Les,
I just want to let you both know that my wife and I are tremendously pleased with the workmanship and professionalism of the painting that you did this week on our great-room and atrium on Forrest Drive. Your crew was on site before the time you told me that they would be, they did their work quickly and quietly. The finished product is amazing! I also appreciate Les adjusting the charges on the atrium portion of the project.
Rest assured that we will enthusiastically recommend your firm to everyone.
I will be in touch with you later this year to hire you to paint the exterior of my home.
Thank you,
Randell Cook, Martinez"

Anonymous

2020-07-28

5★★★★★ - "I am stationed overseas and my rental was vacant. The former tenant left the house in inhabitable conditions ( a mess). It was very stressful since I did not know where to start. I asked my friend for assistance and she referred me to GM Painting. The GM Painting team was hired immediately after the first contact. The team started the job as agreed and I was provided with updates about each step and process; ie, before, during and after.
I also needed assistance with extra home repairs. I was provided with an estimate and the team completed all the repairs.
There are no words that can express how thankful, satisfied and happy I am with this team. They went above and beyond to get my house ready for the market in just a few days. They helped me with the entire house and details that I had no idea what to do or choose i.e. matching colors, accent tones, etc.
Today, I am proud to say that my house looks like new and better than when I originally bought it. Needless to say, that I recommend GM Painting to everyone who needs assistance with their home, you will get the best work ever by a group of amazing experts. Loved it!!!"

ZORY GUZMAN

2020-01-13

5★★★★★ - "This is the second time I have had Les paint rooms in our house. He just finished my kitchen, bathrooms and bedroom and I feel like I live in a new house!! Les and his crew came in and removed old wallpaper and repaired a few places where I had removed old wallpaper� I could not be more pleased with how great it looks and how professional he and his crew were. Best part..they don't leave a mess for you to clean up!!"

Pamela Richey Greiner, Interior Painting in Harlem, GA

2019-07-13

5★★★★★ - "Outstanding quality of work! G&M painted the exterior of my house in less than two business days. Their workers were professional and did an outstanding job! I have zero complaints with work or price. I definitely will be a repeat customer."

Phil W in Evans, GA

2019-05-23

5★★★★★ - "Me and my wife had Mr. Terry and his crew come out to our house and paint our high ceilings and natural wood beans. They did a great job on both items. We had popcorn ceilings and in two spots it was peeling off after they did the work later that night. But like everyone knows with popcorn ceilings it messes up if it's an old one. We told Mr. Terry what happened the next day and he fixed it with no problem. It looks brand new and 10 times better. They are the A-Team. The next day they painted the whole outside of our house and it looks so good. I would let all of my friends and family know about these guys. G&M Painting is the way to go with all your painting needs. They do a hell of a job and my wife and I are satisfied"

Anthony in Martinez, GA

2018-04-11

5★★★★★ - "Everything about the service by G & M Painting was outstanding! From the estimate visit through clean-up, Les, Terry and the crew exceeded my expectations!! They will be invited back when we need further painting services. Drive by 405 Wade Plantation Dr. to see the result."

Ron in Martinez, GA

2018-03-06

5★★★★★ - "G&M just completed painting my home interior and they again did a great job. I have used them to paint rental properties and they always do an excellent job. The prices are very fair. I highly recommend them."

L. Marty in Grovetown, GA

5★★★★★ - "Les and the crew of G & M Painting were a pleasure to work with. They were timely, professional and within budget that was quoted. I would use G & M Painting again without hesitation."

Terry Greenan in Grovetown, GA

5★★★★★ - "The painting team was unbelievable! They went above and beyond to perfect the painting in our house. Over the years we have had many painters and they are by far the very best!"

Judy Brown in Evans, GA

5★★★★★ - "Received Les's phone number from my wife and the guys were painting two weeks later. You know how hard it is to get a painter during Masters week in the CSRA? Well these guys came quick and did an outstanding job. They did extra trim work that needed to be done and even painted the fire place for the "white wash look", Amazing Job!!!"

DNP in Harlem, GA

5★★★★★ - "They are awesome! ... They did the painting in my home over 20 years ago, and even after raising 3 children and many other children in and out everyday, along with normal wear in a home, I'm just now ready to repaint. Very good job and very durable! Give them a try!"

Melissa Carpenter in Dearing, GA

5★★★★★ - "Most professional, reliable, trustworthy painters in the CSRA. They treat your home as their own, painting with care, finding places that need touched up and taking care of it, cleaning up completely at the end of the day and always keeping the homeowner informed as to the progress. They use the BEST quality paint and fair prices to boost. They fixed any carpentry issues, caulked, sanded and painted with as many coats as they needed for a superior final product. My house looks better than when it was brand new!"

Stephanie Angelo in Evans, GA

5 ★★★★★ - "I highly recommend G&M Painting! They came to paint the upstairs of our home last week. Terry and his crew were very courteous and professional. They showed up on time every day and made sure everything was completed to our satisfaction! I cannot recommend them highly enough!"

Colleen in Martinez, GA

5★★★★★ - "Wonderful!!"

Rebecca R., Interior Painting in Augusta, GA

2015-06-02

5★★★★★ - "Nice guys very professional. Work was done quickly, and they did an excellent clean up after. I was very happy with the job. Would recommend them to family, and friends."

Shay S., Interior Painting in Augusta, GA

2015-06-02

5★★★★★ - "The crew was professional, on time, and finished in 1 day. Very responsible, I left The crew in my home alone for the entire day and the house turned out great and was always willing to do extra if needed."

Joe R., Interior Painting in Augusta, GA

2015-06-02

5★★★★★ - "Les, and his crew were timely, proficient, and professional through out the process, I would definitely recommend them to others (and i have), and I will definitely use them in the future."

Shantea P., Interior Painting in Hephzibah, GA

2015-06-02

5★★★★★ - "G&M Painting was priced fairly and got the job done fast. We appreciated the extra effort by Les to resolve a ceiling issue. Thanks!"

Anonymous, Interior Painting in Evans, GA

2015-06-02

5★★★★★ - "From the estimate to the finished job, the experience was prompt, professsional, friendly, helpful. The quality of work was excellent. I even had to reschedule the job at the last minute due to a sudden death in the family. The response was "No problem, call when you are ready to proceed". I have already recommended this company to my daughter."

Anonymous, Interior Painting in Blythe, GA

2015-06-02

5★★★★★ - "This contractor is the best! Les Meyers and his crew were the most respectful of my property, behaved so appropriately in my home and there performance was extra ordinary, above and beyond any paint contractor I have ever hired. The finished appearance is so beautiful. They installed crown molding in my bath and the midered corners are just perfect. EXCELLENT job and then some!"

Anonymous, Interior Painting in Augusta, GA

2015-06-02

5★★★★★ - "We had 4 rooms painted in our house by Les and his team. They were professional, clean and did a fantastic job! They quoted us almost half the cost and 2 days less than a competitor. We have a couple of other projects we are thinking about and would definitely hire G&M Painting again."

Susan M., Interior Painting in Evans, GA

2015-06-02

5★★★★★ - "Les was great. He had wonderful customer service skills and was very accomodating to my schedule; arriving on time and never kept me waiting. He was very straightforward with his pricing. I would recommend him to anyone who needs painting and drywall services."

Kelley L., Interior Painting in Grovetown, GA

2015-06-02

5★★★★★ - "My painting project was the outside ( my house ). Which turned out great and they finished early. I also plan on having them back for the inside painting."

Arlene M., Exterior Painting in Evans, GA

2015-06-02

5★★★★★ - "Very professional and quality workmanship!"

Don M., Exterior Painting in Augusta, GA

2015-06-02

5★★★★★ - "Excellent work, professional conduct, spotless clean up daily!"

Mary O., Exterior Painting in Blythe, GA

2015-06-02

5★★★★★ - "Les and his team were courteous, on time, clean, professional. I recommend Les and his team to anyone- they were fantastic. Outstanding group of people."

Anonymous, Exterior Painting in Appling, GA

2015-06-02

5★★★★★ - "These guys were professional , fast , and friendly! They did a great job on painting our entire house, and also did it for a competitive affordable price. And then to top off the great service, they did the trim around our windows and doors for free! We would definitely hire them again, and will be referring them to everyone we know."

Eliz B., House Painting in Grovetown, GA

2015-06-02

5★★★★★ - "I have always done my own painting, but never again! We hired Les and his crew to paint the inside of our entire house. Terry and the guys started on Monday morning and finished on Thursday afternoon! These guys are fast and good! Also very reasonable! I highly recommend them if you want a professional job! Thanks guys!!! "

Frances Romine

2014-08-20
---
Call for FREE Deck Staining Quote
---